The Programme
The International Hellenic University's MSc in Management is a highly flexible qualification offering access to a wide range of careers in general management, marketing, operations and technology and consultancy services.
It caters to the needs of recent graduates looking for an optimal combination of theory and a practical, hands-on approach. It is also of particular interest to those wishing to start up their own or join the family business.
The first two terms aim to lay solid analytical foundations in all areas related to business and management. During the electives period, students are encouraged to deepen their knowledge and specialise in more specific areas, through four courses. A choice of a dissertation or a group consulting project concludes the programme.
The Core Courses
The core courses ensure that you acquire knowledge of practical concepts and attain skills directly relevant to your career aspirations.
First Term
Second Term
The Elective Courses (NEW)
Students should select four courses. The above list is indicative and continuously updated.
Electives may vary from year to year depending on current interest and student demand.
The Dissertation
As part of the MScs programme students work on a 3-month project on a subject related to their academic interests and career aspirations.
The Master's dissertation provides a good opportunity to apply theory and concepts learned in their courses to a real-world business environment.
Students submit an individual 10,000 – word project using different types of datasets, as well as the writing of case studies and reports often based on summer internships.
Consulting Project
http://www.ihu.edu.gr/gateway/expertise/sprojects.html
The Consulting Project will see teams putting classroom knowledge into practice. Teams will tackle real challenges facing companies or organisations and solve real business problems. Following analysis, teams will prepare and present their concrete and practical solutions via a report. In the past, our teams have consulted a diverse range of companies, including AB Vasilopoulos, Thessaloniki Concert Hall, SimTec, TOGME/EEDE, Grecruitment, Ergogroup Consulting.
Schedule
Duration of the Programme:
1 year full-time (FT) or 2 years part-time (PT)
Teaching takes place during weekday afternoons, usually 18.00 – 21.00.
The programme starts in October.
Seminars
The IHU organises regularly workshops and business seminars. Some of these are offered exclusively to the IHU students and alumni.
The purpose of the Seminars is to act as a link between the academic community and businesses by introducing you to the real world of business and showing you how the notions and techniques learnt in the classroom apply and materialize in the Greek business context.
After all, you will get a better taste of many sectors of the market.
Furthermore, the IHU welcomes the presentation of working academic papers of outstanding Greek and international academics. This consists the "Research Seminar" series.
The purpose of the Research Seminar Series is to bring together the academic and business community by presenting contemporary research topics in Finance, Business, Marketing, Accounting and Economics, among others. Through these seminars, as an international centre of knowledge, innovation and research, the IHU attempts to further strengthen its strategic role in academic excellence.
3rd place for the IHU MSc in Management students
at the 'Global Management Challenge' Competition
3rd place at Global Management Challenge
Congratulations to Moysidis Dimitirios, Kiakos Konstantinos & Thanassoulis Emmanouil, IHU MSc in Management students, for winning the 3 rd place with the group name 'Masters' at the 'Global Management Challenge' Competition , the World's Largest Management Competition for students from all Educational Institutions (AEI, TEI, Private Colleges) in Greece, Greek students from abroad and students from Cyprus!More than 500.000 university students and company managers participating in this event throughout the world in order to:
• Broaden their views on Corporate Strategy,
• Interact with the different Functional Areas of a Company
• Understand the Market Conditions in which they compete and Customer Satisfaction,
• Become aware of the impact of their Decisions on the Organization itself, within an environment designed to encourage and develop teamwork.
First prize: "Best Product Prototype"
We would like to warmly congratulate our graduate, Mr. Georgios Kakamoukas (MSc in ICT, 2016) for winning the first prize: "Best Product Prototype", through his participation at the E-nnovation 2015 competition and for winning the first prize at the "Idea in Health" 2015 Interamerican competition. The E-nnovation is an international competition held annually, which encourages the submission of Business Plans from young potential entrepreneurs based on innovative and novel ideas they develop. As a student of the MSc in ICT, Mr. Kakamoukas attended the elective course of "Innovation and Entrepreneurship"provided by the MSc in Management, since IHU provides the opportunity to students to be enrolled in electives from other MScs and academic fields and developed his business plan regarding the development of an electronic cardiograph. His business plan was next presented at the "Idea in Health" competition, an annual competition held by Interamerican, regarding business ideas in the healthcare sector. Mr. Kakamoukas was the finalist, won the first prize and had the opportunity to pitch his business idea directly to the CEO of Interamerican.

The above provides an additional example of academic excellence, practical orientation and multi-disciplinarity among various research areas provided to IHU students.

"Congratulations George, all the best in your future career endeavors"
Testimonials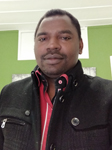 Harrison Atabong (MSc in Management)
1) Why did you decide to study at the IHU, a Greek University in Thessaloniki?
a) Why Greece
Because of its reputation as the birthplace of the modern world and its contribution to education through philosophers such as Aristotle, Socrates, Hippocrates etc. Greece is the cradle of modern Education.
It has one of the best climates in Europe that Africans can easily adapt to
The cost of living is lower than in most EU countries, relatively affordable for Africans
b) Why IHU
It provides the program I wanted to study (MSc in Management), with simple admission process, the course entirely taught in English, withaffordable tuition fees and duration of 1 year.
2) Describe your experience regarding the Master Programme you study. Are you satisfied with the programme structure, the Professors, etc.?
The program integrates student skills in the teaching methodology using; Lectures, Case studies, Videos, Guest lectures and Articles to enhance student's understanding.
The program is carefully design to match the needs of the students to the real world – it meets all my expectations
The Professors encourage students and keep very close contacts with them
3) What are your future plans?
I intend to do a PhD in Management Sciences but haven't yet decided the specialty
4) What do you like most and least about Thessaloniki?
I mostly like that the people are very open, willing to offer support to strangers when asked
The Business language is Greek and not English.
Eleftheria Briaza, 2016, Best Business Talents' Competition Finalist
"My main motivation for pursuing the MSc in Management at International Hellenic University was ultimately to realize my childhood dream to become a successful manager.
The Ihu's Management program is without any doubt one of the best program in Europe, in this field. I could describe it as rigorous and demanding. Professors come from all parts of the world, from best universities, and cooperate with very successful companies It was a life-changing experience that was crucial for the take-off of my career. It equipped me with in-depth knowledge on various business topics and enhanced my managerial and teamwork skills. It also altered my attitude; it made me understand that no professional challenge is too big to conquer. The education that I have received has left a lasting impression which I will carry throughout my career in the business world. The Ihu takes the term interactive classroom to another level.
I am having a great experience while studying since it has a true multicultural society where people from different nationalities are very well integrated. This international ingredient is vital for conducting business on an international scale or for working in multinational firms. It also helped me gain good intercultural communication, conflict management and team work as some of the necessary social skills to succeed in any work environment. It provided me with the knowledge needed to develop into a professional and a leader in my field of expertise, it gave me opportunities to work on real life cases and, last but not least, it helped me become a part of a high qualified network. The last is a benefit, which in today's business is, in itself, a top priority.
Enrolling at Ihu I found a very caring and homely environment, where the faculty staff and the people in the university are highly qualified, exceptionally supportive, approachable and helpful. It is impressive that there was the personal supervisor to whom you can turn for some advice. They were all there to help and along them the career office organized seminars on respective topics on job search and applications up to any issues that possibly may arise outside the university life of a student. I have to admit that the professional character, impartial approach and the possible options that I have been offered from these services helped me a lot, not only academically, but also on a personal level. Personally I developed responsibility, openness and passion for doing a good job while working on the different class assignments and projects.
The lectures and tutorials were interesting and academically stimulating, and applied to real-world case studies which was extremely useful.
I am now employed in Lidl Hellas, one of the leading retailers in USA and Europe. Working as a Property Development manager, i consider myself very lucky, and to a large part I can thank the Ihu and its mentoring programme for where I am now. I would recommend this program to anyone seeking to improve their management skillset, deepen the knowledge and understanding of global management issues and push your limits beyond what you think you can do. In my eyes Ihu is like an incubator for future business people who want to achieve great things in life. Joining the MSc in Management was definitely a valuable investment and one of my best decisions so far. "
An Ideal Career Path
Upon completion of studies, graduates will have a vast range of career opportunities in international and local organisations. MSc in Management graduates are skilled decision-makers, problem-solvers and leaders who can work across all departments of an organisation.
The programme is designed to boost employability for students and professionals who aim for international careers in:
Consulting agencies
Managerial positions across a wide variety of industries in large corporations or SMEs, both locally and internationally
Managerial positions in the public sector and NGOs
Indicative Alumni Job Positions
Konstantinos Kiakos (MSc in Management 2018), Business Client Advisor, ProCredit Bank
Petros Orfanidis (MSc in Management 2017), Junior Consultant, HPP Strategy and Marketing Consultancy (Frankfurt)
Eleftheria Briaza (MSc in Management 2015), Estate Manager, Lidl Hellas
Sofia Tzezairlidou (MSc in Management 2015), Αssistant store manager AB Vasilopoulos
Athanasios Karvounis (MSc in Management 2015), Owner, start-up MADE COUTURE
Despina Tzekou (MSc in Management 2015), Export Department, ISOMAT
Athanasios Theodoridis (MSc in Management 2014), product design (web), Vetted, Silicon Valley and Head of Mobile Products, InsightReplay, New Hampshire
Panagiota Gkaletsi (MSc in Management 2012), National Folklore Museum of Thessaloniki
Vaggelis Simonis (MSc in Management 2012), Owner, SunCruise, shipping and real estate